Speck
Scope
The Speck collection is one of the oldest special collections at Yale, containing material by, about, and relating to Johann Wolfgang von Goethe. For more information see the Guide to the Collections. The general cataloging policies for monographs and serials are followed.
Size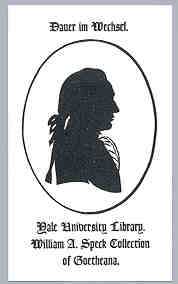 The size boundaries for Speck books and serials are:
Octavo:

up to 25 cm. high
up to 23 cm. wide

Quarto:

between 25 and 37 cm. high
between 23 and 32 cm. wide

Folio:

over 37 cm. high
over 32 cm. wide

Broadsides

Class in appropriate year/number sequences with location code beinycgl.
Marking
The following guidelines are used when marking volumes in Speck:
Mark on Yale bookplate when there is one, generally in the upper left corner.
Mark on back cover, lower right hand corner, when there is no Yale bookplate unless cover is too dark.
Mark on verso of last page, lower right hand corner, when 1 or 2 don't apply. The lower left hand corner is the alternate location when the lower right hand corner is unusable.
If the last page is unmarkable (e.g. too dark or shiny or filled with text or illustrations) , mark the verso of the first usable page from the end.
Classification
Class as a name collection and use a sequential numbering scheme for monographs and serials new to the collection. For serials currently classed in Speck, add issues to that call number.
Monographs

| | |
| --- | --- |
| Octavo | beinycgl ‡h Speck ‡i 15 |
| Quarto | beinycgl ‡h Speck ‡i +6 |
| Folio | beinycgl ‡h Speck ‡i Folio 7 |
Past Practice
The Speck cataloging manual, including guidelines for classification, is available as a pdf document. The first page contains an index of the manual, which links to the appropriate pages. The second page is a summary of the classification scheme and also links to the appropriate pages. The manual was last revised in 1970, and as a result contains extensive references to practices that are no longer followed, including the creation of catalog cards. Generally follow current cataloging standards with regard to description, access points, and subjects. Make added entries and subject headings for Goethe as necessary.